Walker College of Business Accounting Beta Alpha Psi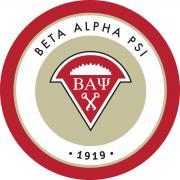 Beta Alpha Psi

Beta Alpha Psi is an international honorary organization for financial information students and professionals. The primary objective of Beta Alpha Psi is to encourage and give recognition to scholastic and professional excellence in the business information field. This includes promoting the study and practice of accounting, finance, and information systems; providing opportunities for self development, service, and association among members and practicing professionals; and encouraging a sense of ethical, social, and public responsibility.
Membership in Beta Alpha Psi includes those persons of good moral character who have achieved scholastic and/or professional excellence in the fields of accounting, finance, or information systems, who have been initiated by an existing chapter and who remain in good standing.
To access the international organization website, visit www.bap.org.
To access the Epsilon Kappa chapter at Appalachian State University, visit asubap.weebly.com.
Membership Requirements
Beta Alpha Psi includes persons of good moral character who have achieved scholastic and/or professional excellence in the field of accounting and who remain in good standing.
To be eligible for membership, students must:
Have an overall GPA of 3.0;
Have an accounting GPA of 3.0 consisting of at least one 3000 or higher accounting course; and
Submit a copy of their university transcript to Dr. Brian Hasson along with an initiation fee.
History
Beta Alpha Psi was founded in 1919. In 1978, the Epsilon Kappa Chapter at Appalachian State University was chartered and became the 125th chapter of the fraternity. From 1993-1994, the chapter's advisor, Dr. Eugene Butts, also served as the national president of Beta Alpha Psi. The current chapter advisor is Dr. Brian Hasson.
In 2011, there were over 289 chapters on college and university campuses with over 300,000 members initiated since Beta Alpha Psi's formation.
Insignia: The letters Beta, Alpha, and Psi denote scholarship, responsibility, and practicality. The emblem of the Fraternity denotes the promise of the accounting profession. The rising sun signifies the profession as one rising ever higher among economic activities. The crossed keys symbolize knowledge of accounting as a means of opening doors to the financial world.
Student Chapter of the IMA
The Student Chapter of the IMA (Appalachian Accountants) is a club open to students of all majors, primarily those interested in a business career. IMA student chapters are communities dedicated to connecting accounting, finance, and business students on college campuses. Our Student chapter engages in various activities including spreading the word about IMA events on campus, hosting and sponsoring talks and discussions with local business leaders, helping students find opportunities and make career decisions, and providing community service. While constantly learning how to be leaders, how to work together as a team toward a common goal, and how to negotiate conflicts, student members honor the IMA Mission Statement and Values, striving to be a positive impact in their communities.
Our chapter also seeks to develop opportunities for students to explore a wide range of accounting careers: corporate, not for profit, governmental, fraud/forensic, audit and tax.
The Student Chapter of the IMA also hosts an annual event focused on fraud investigation or forensic accounting.
Membership Requirements
Everyone is welcome! There are no academic requirements to be eligible for membership, but to be a full member, you must:
1. Be an enrolled Undergraduate or Graduate Student (Part or Full-Time)
2. Pay an annual membership for access to IMA's extensive network of resources and opportunities (usually $25/year or less)
Opportunities open to full members include:
• Being an officer in the Student Chapter
• Student Leadership Conference
• Women's Leadership Conference
• Scholarships
• Participation in the annual international Student Case Competition
• Writing competitions
• CMA Scholarships
History
For nearly 100 years, IMA has been a champion of—and resource for—management accounting and financial professionals. Our story is one of steady transformation yet unwavering commitment: As we've progressed through each decade, we've never lost our mission-led purpose to uphold the profession. The organization was founded in Buffalo, N.Y., in 1919 as the National Association of Cost Accountants (NACA) to promote knowledge and professionalism among cost accountants and foster a wider understanding of their role in management. In 1957, our name was changed to the National Association of Accountants (NAA), beginning an era in which we would later develop our hallmark credential, the CMA®. In 1991, the organization's name was again changed to the Institute of Management Accountants (IMA), signifying our broader role as the association for accountants and financial professionals working inside organizations. Today we are known by the shorthand—IMA—and continue the legacy of professional excellence begun nearly a century ago.