Ten accounting students at Appalachian State University have earned scholarship awards from the Institute of Management Accountants (IMA) to study for and take the Certified Management Accountant (CMA) exam at no cost.
The students are earning accounting degrees from Appalachian's Walker College of Business. The students are: Jackson Bjork, Sam Blevins, Nick Fox, Sanders Fullwood, Tyler Hobson, Kendall Martin, Emelie Rodriguez, Alayna Speer, Caroline Walling and Jaime Ziegenfuss Whitehead.
Students are nominated by faculty members, and may be either undergraduate or graduate level students in accredited accounting or business programs.
As part of the award, the students will receive an IMA membership for up to three years while pursuing completion of the CMA exam, waived entrance fee to the CMA program, an assessment tool to help assess the content covered on the exam, waived registration fees for the first attempt at both parts of the CMA exam, and comprehensive online materials for both exam parts. The latter is funded by GLEIM and comprises nearly half of the approximate $4,000 cumulative awards.
According to IMA's website, the CMA is the gold standard of certification in management accounting. It is unique among professional and academic credentials, designed specifically for accounting and financial management professionals in business. Achieving the CMA designation demonstrates professional expertise in financial planning, analysis, control, decision support, and professional ethics – essential skills sought after by successful organizations and their financial team leaders.
IMA is committed to supporting the education of future accounting and finance professionals working in business. Learn more on their website.
The Appalachian Accounting Degree
Every spring semester, the majority of Appalachian accounting students receive academic credit for their participation in full-time, off-campus internships in accounting firms and industry. The majority of these students receive full-time permanent job offers as a result of their internship. The Department of Accounting has built a strong reputation for excellence in accounting education, and is highly regarded by accounting employers in North Carolina and throughout the Southeast. Accounting graduates are recruited by the largest international, national, and regional accounting firms as well as local accounting firms, industry and government agencies. The Department of Accounting offers the Bachelor of Science in Business Administration (B.S.B.A.) degree and the Master of Science (M.S.) degree in Accounting. Learn more at Appalachian at accounting.appstate.edu.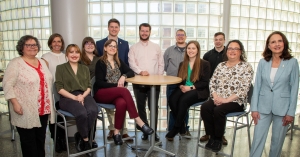 Tags: