By Harley Nefe
BOONE, N.C. – Catawba Valley Institute of Management Accountants and members of the Student Chapter of the IMA gathered Aug. 25 for a night out at the L. P. Frans Stadium in Hickory.
CVIMA invited students to the Hickory Crawdads and to have dinner on the picnic deck.
Students from both Appalachian State University and Catawba Valley Community College attended.
CVIMA hosted the social event to meet and to get to know members as the new academic year started Aug. 19 for Appalachian students.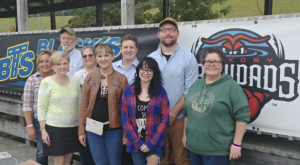 Tags: